When You Can't Do Any More
Barry L. Zaret's second poetry collection, When You Can't Do Any More, is again informed by his work as a cardiologist, his enormously generous spirit, his love of the arts (he is himself a fine painter whose work appears on the front cover of his book), and his passion for the natural world, in particular the Berkshire Mountains, where he spends much of his time. About the book, Victor Altshul has written, "The title poem of Barry Zaret's exquisite new volume of poetry is maddeningly modest and full of unconscious irony. Purporting to describe a physician's feeling of helplessness toward the end of a patient's life (Zaret is a renowned cardiologist), it actually reveals a human being of almost unimaginable warmth, generosity and largeness of spirit, a man who, thinking he does little, does it all. And so does the rest of this wonderful collection, which eloquently celebrates the author's devotion to his Jewish heritage, mourns the loss of patients, dear friends and a beloved wife, and celebrates the dawning of new love and renewed hope. All this is rendered in language of simple and lyrical beauty. In 'Anthem,' for example, he is thankful for 'my rivers / still flowing; / for the years, / still coming; for my sea, / still filling...' And so, happily, are we."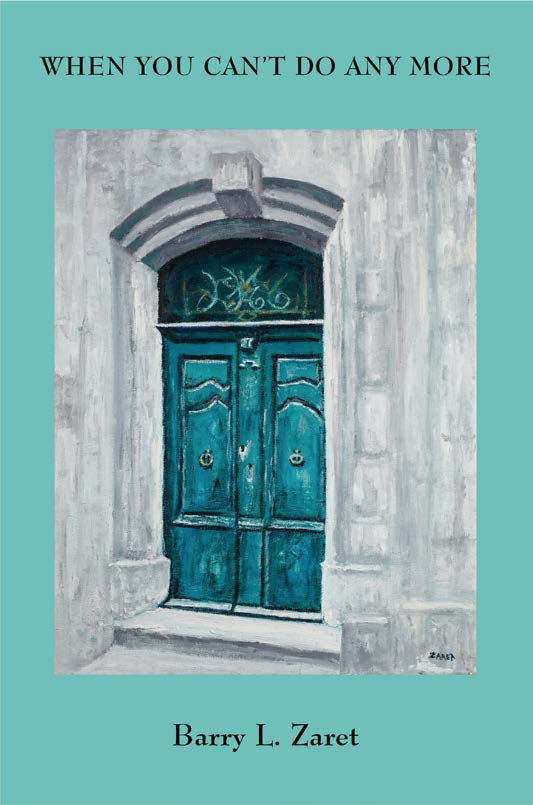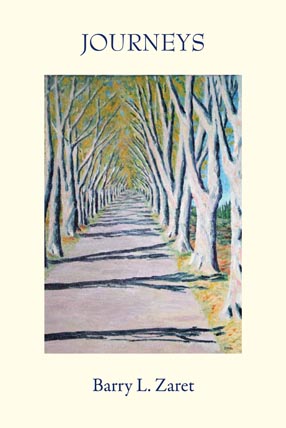 "These singularly evocative poems could have come only from the deepest sensibilities of Dr. Barry Zaret, a brilliant physician gifted with extraordinary perception and understanding, as well as the ability to see empathically into the very souls of himself and of others. Here he looks unflinchingly at his own and our pain and sorrow — and at death — ultimately finding a future of promise and fulfillment. His lines are crafted with love."
- Sherwin B. Nuland, National Book Award Winner for How We Die
JOURNEYS
In Journeys, his first poetry collection, Barry L. Zaret has unleashed a longwithheld torrent of gorgeous verse drawn from the riches of his Jewish heritage, his life as a cardiologist, his intense sorrows and equally intense joys, and his love of the natural world, especially his beloved Berkshires. What one senses most of all in these life-changing poems is the enormously generous and empathetic spirit behind them.
Read a Review of
Journeys

in Tablet Magazine

Read a review of Journeys in Tablet Magazine. An excerpt is posted below. The full review can be read here in the Reviews section of Tablet Magazine.
. . .
In short, nothing about Zaret would lead me to believe that he was leading a less-than-secret second life as a poet. Perhaps this is because his recent collection of poems, Journeys, was written, in large part, during the small hours of the morning—at 3:30 a.m., after his coffee, before his morning run, and certainly before heading off to the university to see patients and to teach. Despite being one of the most respected cardiologists in America, Zaret writes more than many full-time writers do. He often goes through 10 or even 15 drafts of a poem before it is finally perfect and cannot stand to do anything less because his poems are, as he himself says "a fabric of [his] whole life."" He writes about his father's kosher butcher shop. He writes about going to Rockaway beach and saying Kaddish for a friend who died. In one of his poems he even imagines inviting Leonard Cohen to his Sukkah, and warns him that autumn in New England is cold, and that he should "Bring a sweater."
His frank and plain style can make a poem, at moments like these, quite funny. His verses do not pretend to be highly lyrical, and instead depend on the Tao of simplicity, which can at times make some of the writing a bit colloquial. Zaret's writing sometimes feels like that of Jacques Prévert refracted through a Jewish lens; lists of ideas and sensations carefully and artfully aligned. The simplicity of his verse allows Zaret to speak frankly about himself, and his poems become very unrestricted, unencumbered, and therefore, very personal, especially when he writes about his late wife, Myrna, and her death.
Like his Judaism, Zaret's medical training finds its way into his poems. He discusses biological and cardiological processes—not necessarily in the form of metaphor, but often as explanations for why people may behave the way they do. In his poem about his wife "The Last Hours," he sees his wife as a partner would, but also as a doctor who can identify the signs of death: "Secretions filled your airways," he writes. This poem, Zaret admitted to me, was "The hardest to write but had to come out." The medicalized aspect of his poetry can feel forced, but it can also be revealing. There's something captivating about seeing human life, in the same poem, presented both in a poetic and scientific manner. ... Read more.